Welcome to the Web site of Mike Yannes!
Recently Awarded "Re/Max Hall of Fame" Designation
Earned by only the Top 20% of Re/Max agents worldwide
Here you will find a variety of useful information and resources designed to help you buy or sell a home more effectively in the Pocono Mountains of Pennsylvania. You can search for your ideal property by viewing current listings with detailed descriptions and photos. Or you can get help determining the value of your home by requesting a CMA (Current Market Analysis) that includes recent sales of similar properties in your area.
So whether you're buying or selling, feel free to contact me and I will be happy to help you with all your real estate needs. From information on the local community and schools, to advice about finding a mortgage or preparing your home to sell, it's all available.
Buyers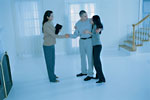 Whether you're new to the area, looking for your first home, moving up to your dream home, or looking for land or investment property, I'm committed to providing you with the highest quality buyer service. When making the type of investment that buying real estate requires, you deserve to have all the latest market information, the very best advice, and an experienced, dedicated agent to guide you through the process... all of which I can provide you with.
Experience and Service:
1. More than 15 years as an award winning sales agent in the Pocono area.
2. Professional network of services to help you purchase your home - including lenders, inspectors, appraisals, and more.
3. Local resident and real estate owner for more than 36 years. I know the area and the local regulations.
4. Help you with your home search taking into consideration your individual needs and wants. - Price, location, style, setting, time frame for the move, and more.
5. Computer alerts letting you know about the latest listings to hit the market.
6. Help connect you with local schools, municipalities, recreation and other questions you might have about the area.
7. Negotiate purchase price and conditions of sale.
8. Contact with Listing agent to assure as smooth a transaction as possible.
9. Do what it takes to get the transaction to close for you.
Sellers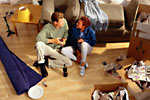 The decision to sell a home is often dependent on many factors. Choosing an agent to help sell your home is an important decision. Every transaction is unique and every agent is different. Whatever your reasons are for selling, my professional experience, qualifications and dedication can make the difference in getting your home SOLD.
I guarantee to provide you with a professional marketing plan to attract as many potential, qualified buyers as possible. Once we have an Agreement of Sale I will continue to work with you, the Buyer's Agent, inspectors and appraisers. I will do whatever it takes to help you sell your home.
Before you list your home with an agent, take a look at his or her qualifications, experience and service.
Experience:
1. More than 15 years as an Award Winning Realtor.
2. Fifteen years in real estate advertising as owner/manager of the largest real estate Magazine in the Poconos.
3. More than 15 years of listing and sales experience in residential, new construction, land, commercial and investment properties.
4. Extensive knowledge of local area and regulations.
5. Professional relationship with a network of lenders, appraisers and inspectors.
6. Local resident and real estate owner for more than 36 years.
Qualifications:
1. Top Sales producer; Inducted into the "Re/Max Hall of Fame" ; Earned by only the top 5% of Re/Max agents worldwide
2. Numerous real estate sales and brokers classes
3. BS Accounting from King's College, Wilkes-Barre, PA
Services:
1. Guide you throught he process of selling your home, from determing listing price to preparing your home for sale, closing the deal and everything in between.
2. Provide a CMA (current market analysis) to help determine an appropriate listing price.
3. Complete listing on both Pocono and Lehigh Valley Multiple Listing Services (MLS)
4. Full listing and photo tour on several internet sites, including Realtor.com.
5. Consistent print advertising in Homes.com and other media.
6. Showing your property
7. Negotiation of selling price and conditions.
8. Assistance with inspections, appraisals and closing issues.
9. Contact with Buyer's agent to assure as smooth a transaction as possible.
10. Professional advice and assistance on all issues relating to your individual home sale.
If you are considering selling your property please contact me at 570 730-7576 or miky@ptd.net.
I will respond as soon as possible.